Marine Conservation – Forging Effective Strategic Partnerships
Important dates
Abstract submission deadline
Early registration deadline
Late registration deadline
We are pleased to announce that the 32nd annual European Cetacean Society conference will be taking place in La Spezia, Italy.
The theme of this years conference is:
'Marine Conservation – Forging Effective Strategic Partnerships'
The achievement of effective marine conservation measures requires more than good science and the theme of the 2018 ECS conference is intended to help explore the role that partnerships with all other stakeholders have in this.
Participants in the 2018 conference are encouraged to bring presentations that relate to this theme or otherwise consider how this issue affects their work, although as usual scientific submissions on all issues relating to marine mammals are welcome. Keynote speakers will help to elaborate the theme along with special focal sessions.
WORKSHOPS: Friday 6, Saturday 7 April 2018
CONFERENCE: Sunday 8 – Tuesday 10 April 2018
More information on travel and accomodation
---
NEW Early registration deadline: 2 Mar 2018 (23:45 CET)
NEW Late registration deadline: 9 Mar 2018 (23:45 CET)
---
Video Night
The New Video submission deadline is 09 March 2018 - please submit your videos!
Please submit your abstracts for the video night here.
---
La Spezia - an Iconic Place for Strategic Partnerships and Blue Economy Models
The municipality of La Spezia is at the very center of:
The WATEREVOLUTION model for the Mediterranean Sea with a clear focus on the Pelagos Sanctuary for Mediterranean Marine Mammals - it represents a concrete example  that nature conservation and human progress are not mutually exclusive.
The Mediterranean Maritime Cluster System.
One of the largest and richest natural and cultural  land and sea protected areas systems in Europe.
---
Eulabor Institute and the WATEREVOLUTION model
Eulabor Insitute is a research institute based in Italy and The Netherlands
Its main focus is on conducting applied research  and on working with industry, government and the community to create change towards sustainable development.
Its WATEREVOLUTION model develops strategic partnerships between maritime cluster companies and marine conservation for an innovative Blue Economy coalition.
Discover the Waterevolution model
---
Organizing Comittee
You can contact the organizing committee via loc.ecs.la.spezia@gmail.com.
---
Scientific Committee
The Scientific Committee will be chaired by Simone Panigada and consists of the following members:
Simone Panigada (Chair)
Giuseppe Notarbartolo di Sciara
Maria Cristina Fossi
Arianna Azzellino
Margherita Zanardelli
Daniela Silvia Pace
Bruno Cozzi
Sandro Mazzariol
Gianni Pavan
Michela Podestà
Mascha Stroobant
Joan Gonzalvo
Giancarlo Lauriano
You can contact the scientific committee via e-mail (abstract.ecs.la.spezia@gmail.com) if you have further questions or suggestions.
---
Programme
The programme of the conference can be downloaded here.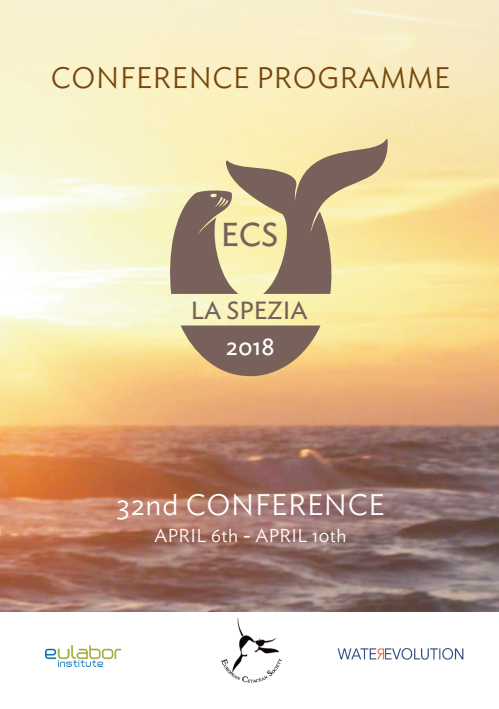 ---
Abstract Book
You can download the abstract book here.