VENUE

The main conference venue will take place in the "Centro de Congressos da Madeira" (the Madeira Congresses Centre). The Centro de Congressos is located seven minutes' walk from the City Centre of Funchal, the capital of Madeira.
The Pestana Casino Park is the conference centre Hotel.  Requests for information on conference accommodation prices and room reserves at this hotel should be sent to grupos.madeira@pestana.com, please mention the ECS conference in your message.
For information on transport and other accommodation options, please go to the conference web page: Conference Information - travel and accommodation
Madeira archipelago and Funchal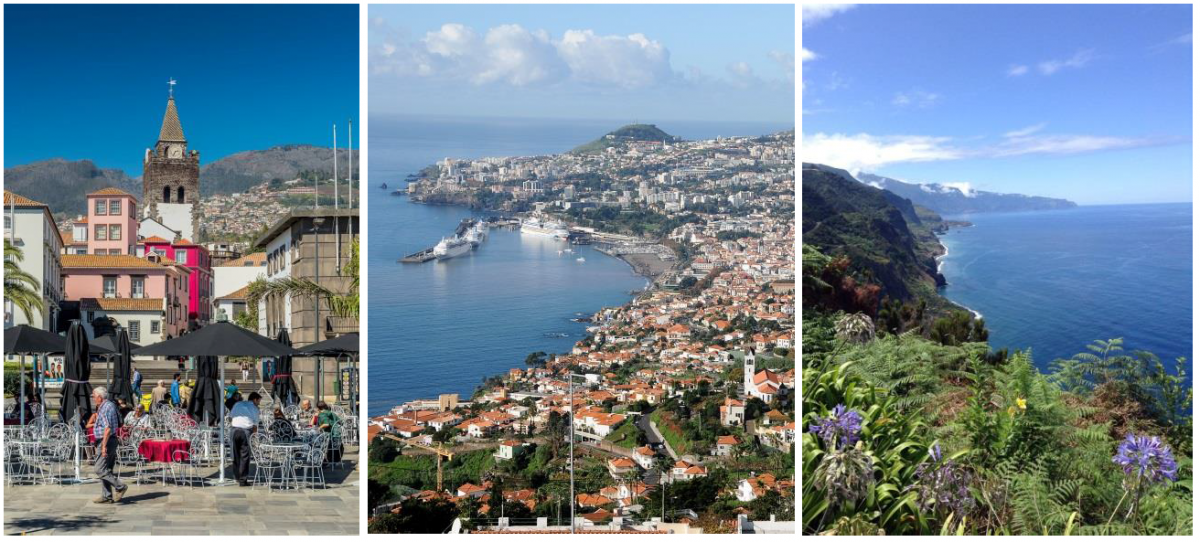 Funchal is the capital of the Madeira Autonomous Region. This Portuguese volcanic archipelago is made up of two inhabited Islands, Madeira and Porto Santo, as well as the Desertas and Selvagens Islands, with both these sub-arquipelagos classified as Nature Reserves. For more information on the nature reserves click HERE.
Madeira archipelago has a sub-tropical climate, with a mild weather most of the time. Funchal has sunny days a good part of the time and the average temperature in March is 16ºC with a maximum of 19ºC and a minimum of 13ºC. The sea water temperature is around 18ºC.
Madeira is the archipelago's main island with 255,000 inhabitants and the tourism is its main economic activity. In Madeira tourists tend to mingle with the locals, who have a friendly and welcoming attitude towards them. Although the language spoken in Madeira is Portuguese, English is widely spoken by the Madeirans, especially the younger generation.
For suggestions on how to explore Madeira click HERE
Culture
Madeira has a rich History going back to the epic Portuguese discoveries  of Porto Santo and Madeira Islands in 1419.  Testifying the rich cultural heritage there are numerous Museums and monuments that can be visited. To find out more about these Museums and Monuments click HERE
There are also many cultural activities in the Island, from music festivals, concerts, theatre plays and so on. For information on the present month cultural activities click HERE

Madeira is also famous for its excellent access to many species of cetaceans and whaling took place here, between 1941 and 1981, using small open deck whaleboats. The sperm whale was the main target species and was hunted using harpoons thrown by hand, like the old Yankee whalers.
The Madeira Whale Museum was established to preserve the memory of whaling in the Madeira archipelago, pay homage to the whalers and promote the study and conservation of cetaceans in Madeira waters. The organization of the permanent exhibition reflects and contextualizes the evolution of societies attitudes towards whales and dolphins, and by analogy to nature in general, namely in Madeira where it went from an extractive and unsustainable activity, as is the whale hunting, to the conservation of cetaceans in general and their sustainable socio-economic use, through the whale-watching activity and the Madeira Whale Museum. 
For more information on the Madeira Whale Museum click HERE
Madeira gastronomy
Madeira has also its gastronomy to offer - from Espetada to peixe-espada-preto, bolo-do-caco, lapas, sopa-de-trigo or fresh fish - you should try these different delicacies and see which best fits your taste. You should also, of course, taste the different types of eponymous Madeira wine and Poncha, which Madeira is also famous for.
Observation of Marine Life – whales, dolphins, monk seals, sea birds and sea turtles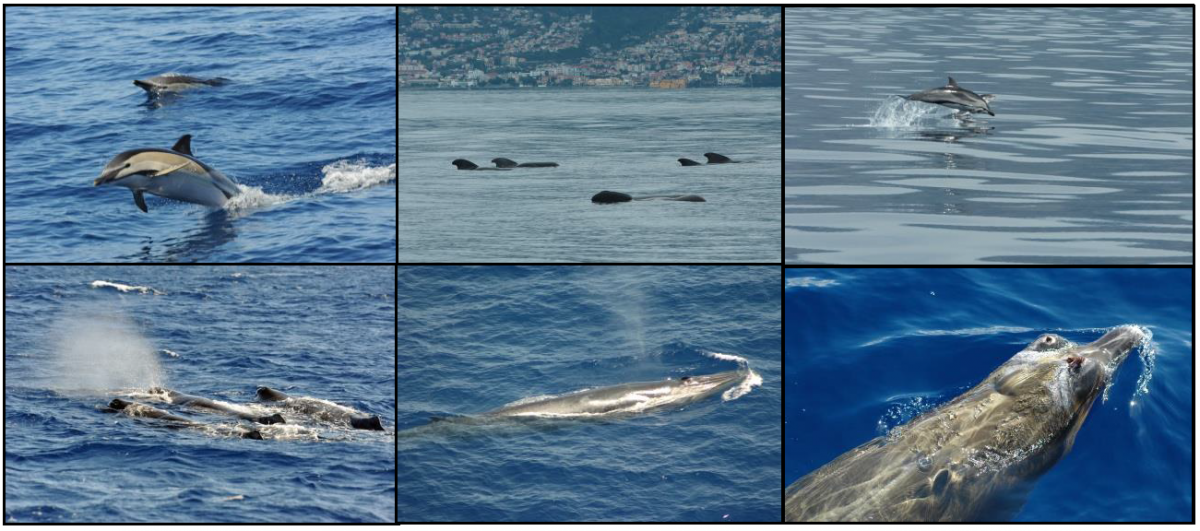 Twenty eight cetacean species are recorded to Madeira archipelago waters. This may be the opportunity to see some oceanic species that you have not seen before. There are several whale-watching companies operating from different localities such as Funchal, Calheta, Machico and Caniçal. Legislation for whale-watching here has established a code of conduct for operators and limits in the number of boats operating in order to contribute to the sustainability of the activity and conservation and welfare of the observed animals. All cetaceans have been protected by law in Madeira waters since 1986.
To know more about the whales and dolphins of Madeira click HERE and HERE
The Mediterranean monk seal is another marine mammal that you may also see. Once very common in the coast of Madeira, it was forced during the last centuries to find refuge from persecution and hunting in the nearby Desertas Islands. There is one town called "Câmara de Lobos", meaning in English "Chamber of monk seals" that is one of the testimonies of this species presence in Madeira island. Protected in Madeira waters since 1986, its numbers have been recovering slowly from a minimum in the 1980's. Presently, the local population is estimated around 40 animals, living mainly in Desertas Islands. However, more and more animals are using the coastal waters of Madeira, being seen sometimes from shore. The Mediterranean monk seal, locally called "lobo marinho", has become the symbol of nature conservation efforts in the archipelago as well as one of the symbols of Autonomous Region by having two animals included in Madeira Coat of Arms. 

To know more about the Mediterranean monk seal in Madeira click HERE
Sea birds (e.g. Cory's shearwater) and marine turtles (mainly loggerhead turtle) can also be seen.
Other nature, sports, adventure and leisure activities

There are plenty of activities to do in Madeira before and after the conference.
You can go up in the mountains and explore the high peaks or go deep into the laurel forest following the levadas (water irrigation channels that cross the island bringing water from the north to the south and from higher up in the mountains to the agriculture fields down closer by the sea). There are over 900 km of "levadas" and walking trails all over the island For more information on levadas and walking trails click HERE
Many of these levadas and trails pass by the Madeira Natural Park, an area that covers two thirds of the Madeira Island. For more information on Madeira Nature Reserves click HERE

There is also trekking, canyoning, geocaching, mountain biking, trail running, climbing, sightseeing or golf. For more information on land activities click HERE 
But being an island the sea is always present and calling. You can enjoy the mild sea water temperature and its oceanic clear waters by going to one of the pebble natural beaches around the island. If you are more interested in action, sports and adventure then you many different options, such as: scuba diving, sailing, windsurfing, surfing, stand up paddling, costering, boat rides or big game fishing. For more information on sea activities click HERE

And if you want to have a different perspective then we recommend you try hang-gliding or paragliding. For more information on air activities click HERE
For information on the companies providing these different activities click HERE
Porto Santo Island

Porto Santo Island is only 2:30 hours away by ferry. With a small population of less than 5 000 people most of the year, it is a place of quietness, sea, nature and beautiful long sandy beach.  Find out more about Porto Santo HERE
For more information on the Porto Santo Nature Reserves click HERE 
Desertas Islands
The Desertas Islands are located  20 km Southeast of Madeira and can be easily seen from Funchal. Although they are a Nature reserve with areas of restricted access, there are areas that can be visited. There are boat trips to these islands.

The marine component of the Desertas Islands Nature Reserve was established mainly to protect the Mediterranean monk seal and its habitat. The last animals of the species looked for refuge from hunting and persecution in these islands, where caves at sea level and more remote beaches became its protecting habitat. Nowadays, the species protection status contributes to the local population increase in numbers and the friendly attitude of people towards these animals made them less worry of the human presence. As a result monk seals are seen more frequently in Desertas islands, use more and more the Madeira coastal waters, sometimes resting on pebble beaches and are less and less afraid of human presence.   
For more information on the Desertas Nature Reserve click HERE