Visas to Israel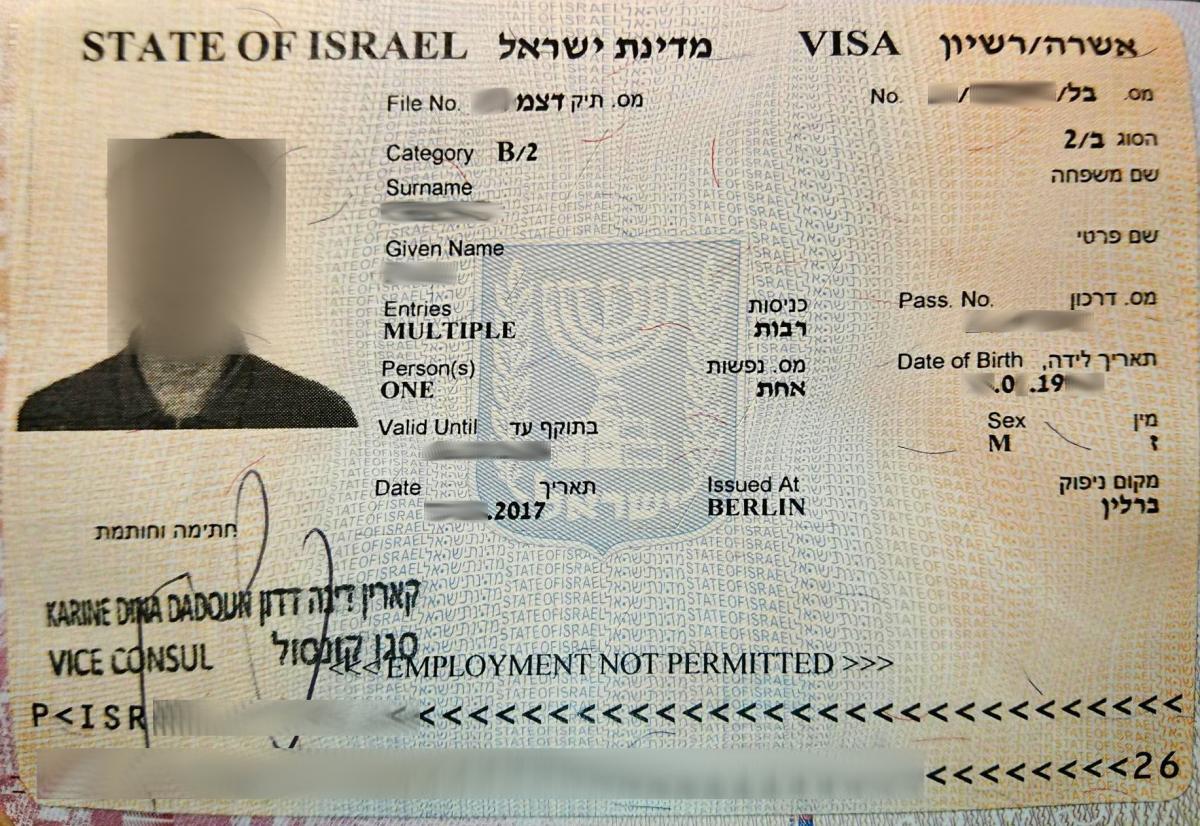 Countries with automatic tourist visa, valid for 90 days, and free of charge:
Africa
Botswana, Central African Republic, Lesotho, Malawi, Mauritius, South Africa, and Swaziland
Asia
Hong Kong, Japan, Macau, Mongolia, Philippines, Singapore, South Korea, Taiwan, and the United Arab Emirates
Europe
Albania, Andorra, Austria, Belarus, Belgium, Bulgaria, Croatia, Cyprus, Czech Republic, Denmark, Estonia, Finland, France, Georgia, Germany, Greece, Hungary, Iceland, Ireland, Italy, Latvia, Liechtenstein, Lithuania, Luxembourg, Macedonia, Malta, Man and Canal Islands, Moldova*(only with a biometric passport), Monaco, Montenegro, Netherlands, Norway, Poland, Portugal, Romania, Russia (Requires Multi-factor Authentication), San Marino, Serbia, Slovakia, Slovenia, Spain, Sweden, Switzerland, Ukraine, and the United Kingdom
North America
Canada, and the United States of America
Oceania
Australia, Cook Islands, Fiji Islands, Micronesia, Nauru, New Zealand, Niue, Palau, Papua New Guinea, Solomon Islands, and Vanuatu
South & Central America
Argentina, Bahamas, Barbados, Belize, Brazil, Chile, Colombia, Costa Rica, Dominica, Dominican Republic, Ecuador, El Salvador, Grenada, Guatemala, Haiti, Honduras, Jamaica, Mexico, Panama, Paraguay, Peru, Saint Kitts and Nevis, Saint Lucia, Saint Vincent and the Grenadines*, Surinam, Trinidad and Tobago, and Uruguay
Countries with a need to apply in advance for a tourist (B2) visa, valid for 90 days. Application and fees must be processed at the Israeli embassy in the country of origin:
Africa
Algeria*, Angola*, Benin*, Burkina Faso*, Burundi*, Cameroon*, Cape Verde Islands, Chad*, Comoros Islands, Democratic Republic of Congo*, the Congo Democratic Republic*, Cote d'Ivoire*, Djibouti*, East Timor*, Equatorial Guinea*, Eritrea*, Ethiopia*, Gabon*, Gambia*, Ghana*, Guinea, Guinea Bissau, Guyana*, Kenya*, Kiribati*, Liberia*, Madagascar*, Mali, Mozambique*, Namibia*, Niger, Nigeria*, Rwanda*, Sao Tome & Principe*, Senegal*, Seychelles Islands, Sierra Leone*, South Sudan*, Tanzania*, Togo*, Uganda*, Zambia*, and Zimbabwe*
Asia
Azerbaijan*, Bangladesh*, Bhutan, Brunei*, Cambodia*, China*, India*, Kazakhstan*, Kyrgyzstan*, Laos*, Maldives*, Myanmar*, Nepal*, Sri Lanka*, Tajikistan*, Thailand*, Turkey, Turkmenistan, Uzbekistan, and Vietnam*
Europe
Armenia*, Bosnia and Herzegovina*, the Holy See (Vatican)*, and Kosovo*
North America
Marshall Islands
Oceania
Samoa*, and Tuvalu*
South & Central America
Antigua & Barbuda*, Bermuda, Bolivia*, Cuba*, Nicaragua*, and Venezuela*
B4 tourist visas should be completed at the Israeli embassy in your country of origin.
Should you experience issues, it is possible for an Israeli citizen to submit a form and payment on your behalf at the following government page:
https://www.gov.il/en/service/request_for_tourist_visa_b2?trigger=sugg
Below is a link to the visa application form:
https://www.gov.il/BlobFolder/service/request_for_tourist_visa_b2/en/Mat...